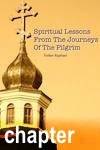 Saint Seraphim of Sarov, through the mercy of God, showed humility, deep faith, inner life, wonderworking, and a compassion for all.

Dear beloved,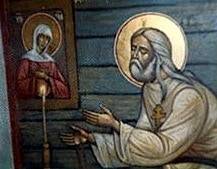 Saint Seraphim of Sarov was born in Kursk, Russia, in 1759. When he was 10 years old, he fell terribly ill and through the miracle of the Kursk Icon of our beloved Theotokos, he was healed. He spent much of his youth praying, reading Holy Scriptures, attending the Divine Liturgy with faith, and humbly learned from the priests. At 19 years old, he left home and joined the monastery at Sarov, went through a long trial of discipline and testing, was tonsured at 27 years old, ordained a priest at 34 years old, and stayed until his repose in 1833.
In 1804, he was brutally attacked till near death by robbers. His physical ordeal was soothed by the appearance of our beloved Theotokos and the apostles Saint Peter and Saint John to him. He recovered somewhat, but had to rely on a walking stick for the rest of his life with a bent spine (quite a few icons depict the saint this way). Saint Seraphim was deeply pious and once, he knelt on a rock for 1,000 days, praying the Jesus Prayer (St Luke 18:13). The demons relentlessly attacked the saint when he prayed, but could not disturb the saint.
In the last few years of his life, thousands of people came to his cell to learn the inner life of prayer. The saint was a wonderworker, with the Holy Theotokos appearing to him many times, and the saint eventually reposed kneeling in front of an icon of the Theotokos (another commonly shown icon).
Saint Seraphim was attributed to a volume known as "The Little Philokalia", which we will try to extract a little of his sayings here.
The legacy of Saint Seraphim to us in the world was that we must find and rest in the holy mystery of Jesus Christ our Lord. He asked us to revisit the teachings of the early Christians, and to labor through our faith with courage, and relying on God's grace and mercy, to ascend the Ladder.
1. Nature of God? – How do we recognize God? How do we recognize the devil? According to the saint, there is NO evil where God is. Everything from God must be peaceful, healthy, and invariably leads us to recognizing our sins in humility. To the saint, God is warm, like a fire in the winter. Conversely, only the devil is cold, like the freezing and lifeless winter.
2. How should we love God? – The saint taught us that a person, who has journeyed towards God with a pristine love for Him, will behave as if his own life did not exist, and that he has detached from all his attachments and passions. Such a person would recognize death as a part of life, but would take care of his immortal soul and dedicate his soul to God (St Matthew 16:26).
3. How should we love others? – The saint taught us, that we should be warm and affectionate to others (St Luke 10:27), without any anger or harmful action, for harmful actions and words would weigh down our hearts like lead or rocks. When people are sad or depressed, the saint told us to encourage and cheer them with kind words. When people sin, rather than judge them, we are to cover him, as Saint Isaac the Syrian said, "Stretch out your vestment over the sinner and cover him". The saint taught, that loving others as ourselves show that we love God truly (St Matthew 10:37).
Let us pray for all of us for the salvation of our Lord:
"Lord Jesus Christ, Son of God, have mercy on us, sinners".
Book Index | Prev: Praying for others | Next: Mercy & forgiveness