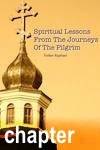 How often do we bring prayer into the center of our lives, to internalize it as a heartbeat or our breathing?

Dear beloved,
After the pilgrim managed to get a very old copy of the Philokalia, he was overjoyed. Together with the Holy Bible, and dried bread bits given by kindhearted souls, he set off his journey again.
This reminds me of a time that, despite my scoliosis, I traveled and walked a long distance in Japan, and the journey took its toll on me then, and for later years.
The pilgrim too, traveled, and for far greater distances. But unlike the sinner like me, he prayed the Jesus Prayer unceasingly, and he was not exhausted (1 Thessalonians 5:17, and Ephesians 6:18). The Jesus Prayer alone filled his thoughts and nothing else could distract him, not the pain of walking miles and miles on end, not the cold bitter weather, because the warmth of inner prayer filled his soul. Even if he fell sick, the prayed took the pains and suffering away. The pilgrim became immune to the ambient and environmental conditions, which became nothing more than noise in the background. The pilgrim's ego was increasingly given away to a complete utter foolishness for Christ, without pride or prejudice. The world might have thought of the pilgrim as nothing but a fool, but God's mercy gave the pilgrim something all of us would yearn for, an inner peace and complete joy in the love and warmth of God, through the Jesus Prayer.
Now the part of the story revealed that our pilgrim has a disability in his left arm since childhood, which prevented him from getting any suitable work or getting money for lodging. In him we could not find signs of despair nor resignation, but one of acceptance. Too often, sometimes we give way to our suffering, however small, and sometimes some of us might even blame God for our suffering (Ecclesiastes 7:14). God has been there before we even came about, and He knew us before we exist or imagine we know ourselves. I am often consoled that in apparent suffering, when I am wavering on my frail faith, I would return to prayer and somehow, God's mercy would lend strength for me to brave on. God would not want us to be perpetual babies, but to grow and mature in faith and love towards God. Every day is a day of grace and mercy to walk to Him, a baby step at a time (LXX Psalm 26:14).
The pilgrim, on following the disciplined verbal prayer of the heart, began to slowly find the prayer moved from merely from the lips, to be from the heart (Proverbs 28:19). The pilgrim described it as if the prayer would resonate with natural breathing patterns. Often, when we pray the Jesus Prayer in between busy moments in life, and in crowded places, it may be turned inwards into the heart, a soft and gentle resonance within our hearts, virtually unknown to people around us. Every little distraction, whether it be a colleague asking us for something, an office email to finish, a report to compile, some documents to photocopy at the photocopier, or even making a cup of tea for the afternoon, can be a prayerful moment to spend with the precious Jesus Prayer, deep within our heart, silently, without verbalizing. It can be a rejuvenating and calming prayer.
The pilgrim described, at this stage, the prayer has formed a "delicate soreness" in his heart, which brought an immense love for Jesus Christ. He described that he would gladly throw himself at Christ's feet, embrace His holy feet and never let them go, with tears of joy and gratefulness for His mercy. The question perhaps is, do we pray for mere deliverance and material fulfillments, or would we rather pray for such tenderness and gratefulness of our faith and love for Christ?
The pilgrim gave us also, a wise reminder. He revisited the Philokalia, to pore over the text of the fathers, to discern the "delicate soreness" he felt, to be sure of what he was feeling was neither a delusion nor a mistake. Too often, we hear of believers (or even pre-believers) who fall prey to the lures of the devil, whose trickery can convince many of the signs and wonders. Let us therefore, follow the footpath of the saints before us, who sought only God and His mercy upon their sins, and not focus on signs and wonders. If we are praying, the devil will attempt to thwart us with laziness, sleepiness, and sometimes, what seem like miraculous signs. However, if we were to discern and revisit the holy texts, we would begin to see, what the fruits of the signs are. The devil does not lead us to God. This means that the devil's illusory signs to trick us can be easily rejected if we let our egos go, and allow God's will to take over. If however, we allow our pride to take over, then we will ignore and turn blind to the narrow path God has carved out painstakingly for us. The beauty of the Jesus Prayer therefore, is in its seeming simplicity. There are no esoteric sounds or lengthy discourses, just a short confessional prayer to profess our faith in Christ our Lord, and in the same prayer, lies a deeper and richer power – the name of God.
"Win the enemies in your mind with the name of God. You will not find any other weapon more effective than this. Similarly you will manage both to appease your passions inside yourself and to efface them with the aid of the prayer," said Saint John Climacus, father among the saints who wrote the illuminating "Ladder of Divine Ascent".
Let us try to bring our prayer from our lips, into our heart:
"Lord Jesus Christ, Son of God, have mercy on me, a sinner."
Book Index | Prev: Quiet places | Next: Consolations in adversity