24. God's love transcends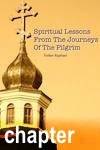 Whatever our condition, wise or simple, brash or meek, God loves us all, especially if we make that step towards Him, through prayer.

Dear beloved,
The skhimnik went on to describe the important things when praying constantly. First, any thought or subtle stirring of true prayer is a result of the work of the Holy Spirit and one's guardian angel (Exodus 23). Second, the Name of Jesus Christ in the prayer effects beneficial powers in it. Third, trust in calling the Name of Jesus Christ in the prayer, and ignore one's own failure in praying, or the criticism of other people in your attempts to pray unceasingly.
Sometimes, the evil one may provoke our envy for others with spiritual gifts. But beloved, do consider that God loves us all despite our failings, and He has Divine plans for every one of His creation, whatever our gifts He mercifully gave us. Saint John of Karpathos in the Philokalia mentioned that even if we do not have discipline in fasting or attain spiritual feats, our Lord will still want to save us through our prayer.
Very few of us are to be monks living a cloistered life, which in a pristine environment, is a special gift to be able to pray unceasingly in silence. Many of us are deep in the world, living among people and environments, challenged often by our surroundings.
Still, the skhimnik reminded us that whether we are monks or not, we are to try to pray unceasingly, because our feeble attempts to pray will be warmly welcomed by God, and He in turn, will grant us unceasing prayer when we try enough. For example, the skhimnik mentioned Patriarch Photius who, despite being a busy hierarch overseeing the diocese of Constantinople, he was able to pray unceasingly. Saint Callistus of Mount Athos was also able to pray unceasingly despite handling the kitchen chores as a cook. Many people, despite having a busy and hurried life, could find in their hearts, the desire to pray unceasingly. Should we not attempt leaning on the heartbeat of our beloved God in our daily journey of life too?
The priest then said to the skhimnik that Holy Scripture mentioned that verbal prayer alone was useless without proper attention of the heart (St Matthew 15:8, 7:21). The skhimnik clarified that the Holy Scripture should be interpreted to mean the hypocritical worship unto God without a true intention and flaunting such worship to others, as the Pharisees Christ mentioned. The skhimnik agreed that if one does not treat prayer like a disciplined exercise that is exercised consistently, frequently, with strength, over a sustained period of time, then prayer will not encircle within one's heart to be unceasing. The more one prays, the more the Holy Spirit will provide the strength to carry on in prayer, until it becomes unceasing.
The skhimnik mentioned that prayer in itself, especially that of calling the Name of Jesus Christ, would have the mystery of a power that drives one to be on the road to righteousness by banishing evil thoughts, disasters, calamities, even our passions, by the mercy of God (1 John 4:4). And prayer should be energized by an inner love within oneself. With love, God is pleased, and He will make all things happen for one's journey closer to Him. Without love, all efforts are futile.
But as a warning, we are also reminded by the professor to pray unto God out of love, and NOT out of spiritual gluttony or attachment for fruits and rewards (St Matthew 19:21).
Dear beloved, with a humble heart, with no expectation of fruits, but just a love for our Lord, let us pray:
"Lord Jesus Christ, Son of God, have mercy on me, a sinner."
Book Index | Prev: Spiritual meetings | Next: Solitude & silence