Forefeast of the Dormition – Patience in adversity

In the Name of the Father and of the Son and of the Holy Spirit, one God. Amen. We remember our beloved Most Holy Theotokos, on the Forefeast of her Dormition. We also commemorate the Prophet Micah, may the prophet pray for us. Amen.

When we read St Matthew 23, Jesus Christ our Lord reprimanded the scribes and pharisees, on how they and those before them, persecuted prophets God has bestowed upon their people, by whipping them in synagogues, by crucifying them, and even killing them, in every city these Godly prophets were sent.
But we know that martyrdom, through living, or dying in Christ, is part of the Christian journey. We are encouraged when we read Psalm 34:19, that our Lord delivers and redeems his servants who lead just lives.
We are not exempt from troubles. Troubles are part of the formative lives we lead, and are meant as challenges for us to grapple with, to learn from, and to lean closer to God. We have fears, fears of poverty, fears of illness, fears of loss, fears of death. Each of the troubles and challenges we confront, are part of the edifying journey we lead as we attempt to journey closer to God. There will always be moments when we lapse into irrational fear, and may even momentarily forget our God, Whom we should never forget, as He leads us every step of our lives from birth to our end.
The Prophet Micah encouraged us in Micah 7:7-9, that we are to look to our God, and wait… for our salvation in Him. There will be moments when nothing seems to go well, and things seem to nose-dive with no good end in sight. And yet, the Prophet Micah reminded us, God will hear us, and our pleas. We are grave sinners, and we deserve every suffering, and yet, we know that God will bring us to His Truth, His just judgment, and has us in His arms for all the days of our lives, for all the troubles we face from our beginnings to our end. Trust, wait, and hope in the Lord.
And let us in all things, remember the admonitions in 2 Corinthians 10:7-18, where we are to remain humble and contrite for the rest of our lives, even as we hope in God, and lean on Him for all things challenging us. The evil one has two terrifying weapons to derail our spiritual journeys. One is our pride. And the other is depression. Let us never to succumb to these weapons of the evil one, and remain hopeful and prayerful in our Lord.
As the Feast of the Dormition of our Most Holy Theotokos draws near, let us ask our Mother, to save us and keep us in her prayers before our Lord and Christ always, she who hears all our cries for God.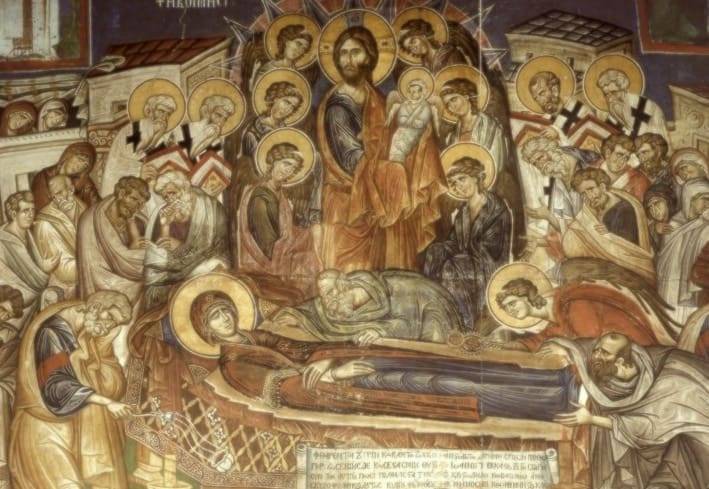 Let us pray, "Lord Jesus Christ, Son of God, have mercy on me, a sinner."
Let us close by praying the thanksgiving prayer:
It is truly meet to call thee blest, the Theotokos, ever blessed and most pure, and the Mother of our God. More honorable than the Cherubim, and more glorious than the Seraphim, without corruption thou gavest birth to God the Word: True Theotokos, we magnify thee.
O virgin Theotokos, rejoice; O Mary full of grace, the Lord is with thee. Blessed art thou among women, and blessed is the fruit of thy womb, for thou hast borne the Savior of our souls, Jesus Christ our Lord. Amen.
Fr Raphael+
Readings
Micah 7:7-9
Proverbs 2:6-9
St Mark 3:28-35
2 Corinthians 10:7-18